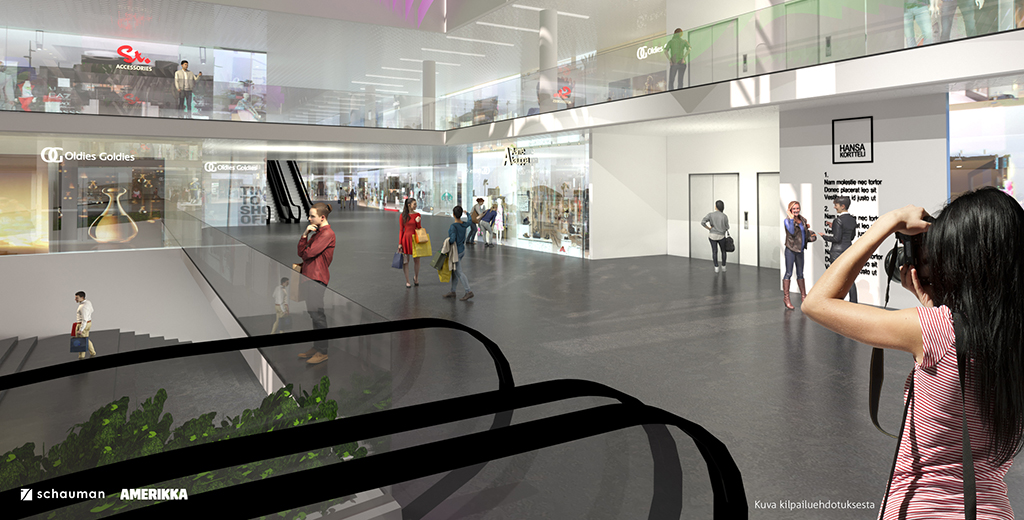 Shopping Centre Hansa to be renewed
Shopping Centre Hansa will get a new fresh look – Schauman Architects and Amerikka Design Office won the design competition
Shopping Centre Hansa in Turku will undergo major renovation. To this end, Hansa organised a design competition, where Schauman Architects from Turku together with Amerikka Design Office emerged as winners. Gozo Oy from Turku will take part in the project as an expert in service design.
Shopping Centre Hansa, which the readers of the Helsingin Sanomat newspaper voted as the best-loved shopping centre in Finland, invests in comfort. The project plan will be completed in autumn 2016 while the renovation is scheduled to begin on week 47 with the refurbishment of the entrances, and construction work will continue throughout 2017 and 2018. Renovation starts at Hansatori Square.
"We wish to further strengthen the role of Hansa as the city's common living room. The process was kicked off with a customer survey, the results of which will be taken into account in the plans," says Timo Palviainen, Shopping Centre Director.
Janne Helin, Managing Director of Schauman Architects and the head designer of the project, says that the reorganisation of walkways is one of the means of creating ambience in the new Hansa.
"We wanted to make the centre easier to navigate. This is achieved by restructuring stairways, paying more attention to accessibility and creating new promenades," Helin explains.
"Hansatori Square will be the central meeting point and visible from all directions. All promenades inside the centre will lead to the square," says Sami Maukonen, CEO of Amerikka Design Office.
In addition, Hansa will invest in new surface materials, lighting and basic facilities such as rest rooms, children's areas and nursing rooms.
"Hansa's new look and atmosphere have been inspired by urban culture and its diversity. At the same time, however, it pays homage to the long history of the property." Palviainen hopes that the refurbished Hansa will attract new businesses and other operators.
"We hope to profile Hansa as the window to the world. We want to offer our customers entirely new experiences and shops from Finland and elsewhere in the world," Palviainen explains.
"Our project and plans also match the strategic key project of the City of Turku. The project entails the development of the city centre as the heart of urban culture and a place for versatile shopping, recreation, leisure and cultural events," says Palviainen.
Shopping Centre Hansa is the largest shopping centre in Southwest Finland both in terms of visitors and sales.
For further information, please contact:
Timo Palviainen
+358 400 668 862
timo.palviainen@hansakortteli.fi
Janne Helin
+358 400 639 581
janne.helin@schaumanarch.fi
Sami Maukonen
+358 40 5089 766
sami.maukonen@amerikka.fi
***
Shopping Centre Hansa is the largest shopping centre in Southwest Finland both in terms of visitors and sales, and the fifth largest in Finland. In 2015, the centre had 12.5 million visitors and total sales amounted to 235 million euros. Hansa houses more than 120 companies and 39,000 m² of leasable area.