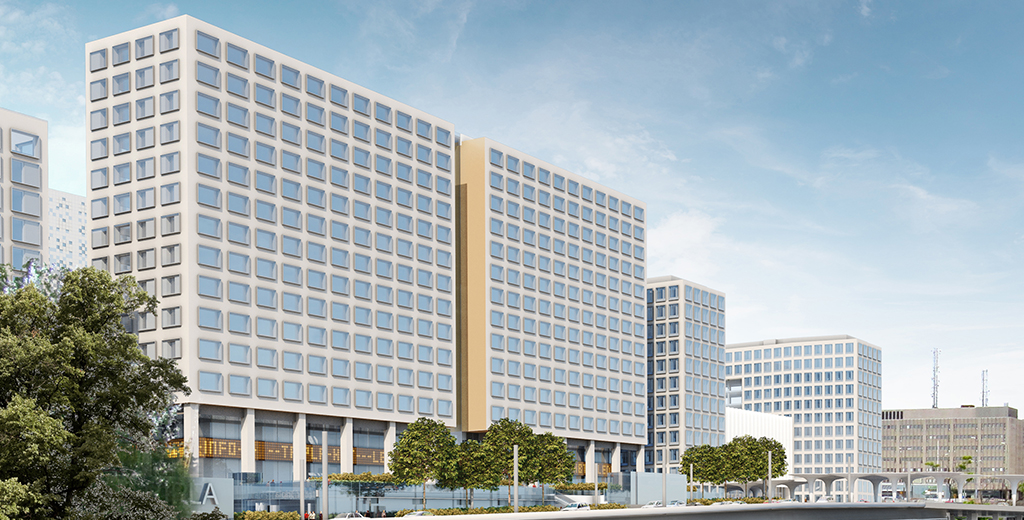 Exilion signs final agreements regarding the development of the Tripla hotel in Central Pasila
The new limited partnership company managed by Exilion Management Oy has signed an agreement with YIT Corporation for the construction of a hotel in Central Pasila as a part of the Tripla project. The hotel will be operated by Sokotel Oy and financed by Exilion Pasilan Asemahotelli Ky, a limited partnership company owned by Elo Mutual Pension Insurance Company, the State Pension Fund of Finland and Veritas Pension Insurance. The aim is to carry the deal through in Q2 of 2017 after the conditions for entry into force have been met. The hotel is expected to be completed in early 2020. The value of the agreement is estimated at 88 million euros.
With its 17,800 m² of leasable area and 430 rooms, the hotel will be one of the largest in Finland. Excellent location and convenient access cater to the needs of those visiting Tripla and other near-by locations such as Hartwall Arena and the Messukeskus Expo and Convention Centre. The hotel will be built in accordance with the LEED Platinum certification requirements.
"We are pleased with the progress of the Tripla project and excited to be involved in developing a new and improved Pasila. We strongly believe in the potential of the area as the second centre of Helsinki at the junction of major traffic arteries and in the vicinity of many leading event venues," says Ari Talja, CEO of Exilion Management Oy.
Contrary to the letter of intent, the State Pension Fund of Finland and Veritas Pension Insurance will replace SOK as the owners of the limited partnership company.
"We are thrilled to continue cooperation with Elo and Veritas under the new limited company, and especially thrilled to welcome the State Pension Fund of Finland to the group of Exilion owners," says Ari Talja.
For further information, please contact
Exilion Management Oy
Ari Talja, CEO, tel. +358 50 5700 796, ari.talja@exilion.fi