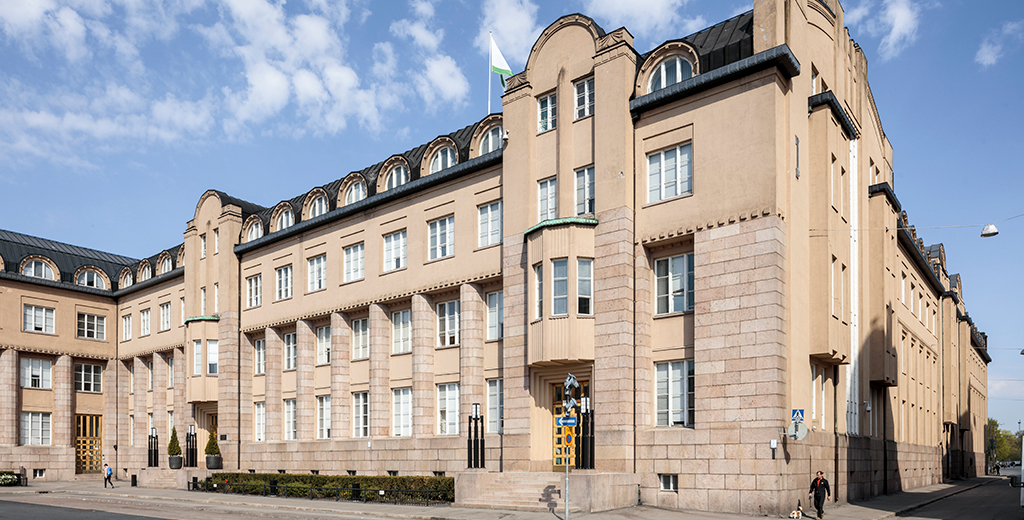 Construction of new hotel at Helsinki Central Station begins
On 5 December, Exilion Asemahotellit Ky acquired the administrative building of Helsinki Central Station, known as the former head office of VR. Exilion will develop the property into a 500-room hotel for Scandic Hotels Oy.
Exilion closed the deal for VR's former head office at the end of November when the building permit for the hotel project became final. The transaction price was EUR 55 million.
The project involves renovating the former head office of VR Group, Finland's national railway company, and converting it into a hotel. A new building will also be constructed on the plot's north end, facing Kaisaniemi Park. The EUR 130 million project will employ up to 3,000 people, subcontractors included. With approximately 29,000 floor square metres and just under 500 rooms, the hotel will be one of the largest in Finland.
The building contract was awarded to NCC Suomi Oy, and construction will begin in December. Two architect firms will design the premises: Arkkitehdit Soini & Horto Oy and Futudesign Oy. Due to the historical value of the property, the work will be performed in close cooperation with the Finnish Heritage Agency.
The hotel will be a modern landmark of Helsinki. Finland is experiencing strong growth in tourism, and the new hotel will provide premium accommodations in the heart of Helsinki to tourists and conference guests alike. At the same time, we are able to open a beautiful historical property to the public", says Exilion's CEO Ari Talja.
The project is slated for completion in late 2020 or early 2021.
Exilion is also developing a second hotel in Helsinki, in the Pasila district's Tripla shopping centre. The total capacity of the two projects is in the region of 900 rooms and their combined value roughly EUR 220 million.
Additional information:
Exilion Management Oy
Ari Talja, CEO, tel. +358 50 5700 796, ari.talja@exilion.fi
Responsible Finnish real estate investment
Exilion, established in 2005, is a Finnish real estate investment firm that owns a portfolio of office, retail, business and hotel premises worth more than EUR 500 million through three partnership companies. The proceeds of the company's operations are used to pay for the pensions and education of Finland's citizens.
Exilion Asemahotellit Ky is a partnership company established in 2017 and owned by Elo Mutual Pension Insurance Company, The State Pension Fund of Finland and Veritas Pension Insurance. The company is developing two hotels, one in central Helsinki and one in the Pasila district.